Monster Segway
Dave5 flicked me this link to the Monster
Segway.
TVR Sale
British car maker TVR is sold.
So the Lada jokes start, but if Nikolai goes after the US market as expected then the chances of getting airbags into a T350, allowing import to NZ, just shot up.
Finally! The IPAQ Phone
After what seems like a lifetime (certainly two careers) HP/Compaq have finally got a PDA/Phone
http://www.geekzone.co.nz/content.asp?ContentId=3097
Size wise (the key criteria) this newbie is 119mm x 75mm x 18.7mm so is shorter, wider and a hair thinner than the XDAII/iMate at 130mm x 69.9mm x 19mm.
Font Things
If you're interested in how complicated fonts are, clear type and the like, this powerpoint covers of some of the 'fontography' happening in Longhorn.
Hybrid Personal Productivity required
I'm pretty wired. I use a Toshiba M200 tablet for my main computer and an iMate (XDA2) Pocket PC phone.
I'm still not comfortable using my tablet for meeting notes. It changes the dynamics too much. So I tend use a paper notebook. What I need a hybrid system for working between a PDA/Notebook and paper.
Essentially the main things I do are:
Schedule further meetings
Take general meeting notes
Create actions that must be done by a certain time
Jot down links that I might follow up on when I have time
Most systems either to be completely paper oriented (e.g. DayRunner) or complete computer based (like what OneNote is trying to be). I need to a combination of paper and computer.
I don't think I'm looking for software. I think I'm after a process that I need to be rigourous about. Perhaps I need an A4 diary with each day on. At the end of each day transfer actions etc into the PC/PDA. Perhaps I need to tick off my paper notes to make sure I haven't missed anything.
If anyone has any advice please let me know.
Dark side of the 80's
Stayed last night in Nantwich a small town next to Cewe in the NW of England.
Crewe is the home of Bentley. I drove past last night and saw about 20 Continental GT's wrapped up for delivery. In the streets I've seen a few big Bentley's with plastic wrapping vroom past.
Nantwich is really nice. A mix of new and very old housing. Had dinner in a traditional English pub that was playing the "Dark Side of the 80's". Must get.
Facetop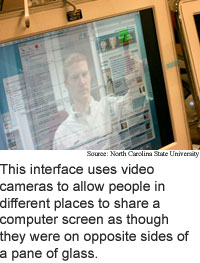 This is clever and obvious.
Facetop superimposes transparent images of a computer's desktop over video images of the user to allow the user to look at the video and desktop at the same time.
Here's a great use of the new graphic's features of Lonhorn.
iPod v4
Is out …
Nice new wheel but I think I'll skip this generation and update on V5.
HP branded version to come:
"HP has chosen iPod and iTunes as the best products to integrate in to our digital entertainment strategy," said Carly Fiorina, chairman and chief executive officer at HP. "We decided to wait for this amazing new fourth generation iPod, as it will offer our customers an even better experience. HP's version of the new iPod will be available in September."
Priceless … really
Great blooper from
TechTV.
Even More on Explorer
Blair Wright sent me this link.
http://www.joelonsoftware.com/articles/APIWar.html
read the Enter the Web section.
It's not that Microsoft didn't notice this was happening. Of course they did, and when the implications became clear, they slammed on the brakes. Promising new technologies like HTAs and DHTML were stopped in their tracks. The Internet Explorer team seems to have disappeared; they have been completely missing in action for several years. There's no way Microsoft is going to allow DHTML to get any better than it already is: it's just too dangerous to their core business, the rich client.
Also on Loosley Coupled …
Nobody involved in these and other similar initiatives is fooling themselves that they can do everything that's required in the browser as we know it today. But they do believe that they can get there by building on today's browser technology as a foundation, which is a route Microsoft explicitly rejected when it halted work on DHTML.
So the question is: Can browser based applications be stopped?
For many tasks (Word Processing, Graphic Design etc) a thick installed client is of course required, but for many business applications rich browser based applications are so desirable for their zero deployment effort that this area cannot be stopped. As the next version of Windows is still several years away the trend for richer browser based applications will continue. DHTML was never perfect but it was good enough before development was halted.
ASP.Net allows very talented people to hide DHTML complexity in controls, so there is enough there now for many years of business application innovation.
Microsoft buys Lookout
eWeek reports that Microsoft is buying Lookout a client side search add on for Outlook.
Very confusing as Lookout uses the Lucerne Open Source search engine.
Wonder what is happening with the "Stuff I've Seen" technology MS was showing last year.
More on Explorer
eWeek: Microsoft Short on Specifics to IE Questions.
Would it be crazy to think this a deliberate strategy.
[Scene: Monday morning meeting]
Strategic Legal Guy: "Steve, I've got a crazy idea, we've got too much market share in Explorer. Lets take our foot of the throttle and loose a few points"
Steve: "That's crazy enough it just might work. Do it - or rather don't do it"
All: [Erupt in laughter]
Life is a Race
So I couldn't resist it and we got the bad boy Maclaren Stroller. Apparently we're in good company.
The tag line on the Maclaren Triumph Stroller is "life is a race".
The racing stripes are reflective.
Rock on!
Explorer - who's minding the store?
There's an increasing amount of talk on the web about replacing Explorer.
There's the usual security drivers etc. etc. but to me the real issue to me is 'why is Microsoft opening the door'?
Explorer hasn't advanced in several years. Standards support has not improved. Neither have 'simple to add' features been introduced that would keep consumers happy.
For example adding Tabs to Explorer. You would image that would be trivial as so many 3rd parties are doing it. Microsoft could simply add that without even changing the rendering engine.
Microsoft is usually very good at getting into new areas but the lack of innovation and direction in Explorer is a surprising/puzzling case of just not minding the store.
How life changes
It's amazing how quickly priorities change. Normally when I go to a new town I'd check out all of the surf shops. (Not many of those in the SW of London.)
Now I get excited about going into baby shops.
Get this Maclaren make a stroller!
It's got racing stripes.
Must have!
AMV8
Here is a pic of the AMV8 mentioned below …
New 997
I think they've just about got it right with the new 997 model 911.
http://www3.porsche.com/Precision911/pcgb.asp
The 993 style lights, 19″ rims just make it.
Interesting article in the latest top gear. Aston Marton are developing their new small AMV8 as a 911 killer. They have a collection of 911's their directly testing against. Spec's are 400hp+ in version 1 and will have exclusivity factor.
DYI Segway
Great link from Gordon …
http://www.tlb.org/scooter.html
Segway Face
On a similar vein, Segway Face is the expressionless, almost bored look, that you wear when riding your Segway around in public. It's an expression that says. "Doesn't everyone ride one of these to pick up the mail."
It takes a while to get a good Segway Face, especially when little kids are freaking out!
Train Mail
For the first time in ages I used the TabletPC features of my laptop.
I've said before but the LoneStar TabletPc 2004 update is awesome
I had a one hour train trip and wanted to bang out some email. Some smart looking once guys were sitting across from me wanking on about technology - no better way to deal with that than whip out the Tablet and do some pen based email'n.